Products for thermal power plants
a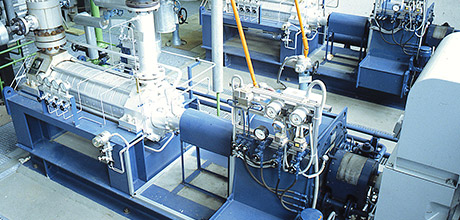 All thermal power plants use the same principle of operation: They convert thermal energy into electrical or mechanical energy. The requirements on the drive and con­trol systems in various thermal power plants are also similar.

Planners, system builders and operators have trusted Voith products and solutions for many decades. Why? The technologies used are more rugged and more reliable than others. For example, the Vorecon variable speed planetary gear reaches a Mean Time Between Failures (MTBF) exceeding 48 years. Or the redundant ac­tu­ators for the turbine control system achieve an MTBF of more than 150,000 years.

With Voith control and drive systems, your power plant will operate for a longer time without unplanned downtime. Your power plant is efficient and productive.
Products for thermal power plants:
Fluid couplings
Torque-limiting couplings
Universal joint shafts
Hirth couplings
Highly flexible couplings
Actuators and control systems for turbomachinery
Diaphragm couplings
Variable speed drives
Rotor turning gear units
Turbo gear units