Products for the steel industry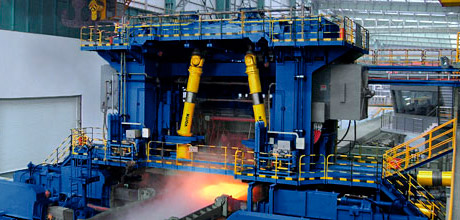 Steel production is changing: It is becoming more flexible, more efficient and more environmentally friendly. For the operators of steel mills, this means modifying the mills to make them more technically and economically competitive over the long term. Control and drive systems play an important role in this process. With in­nova­tive products and drive solutions, we are your partner over the entire lifetime of your system.

For example, you will find Voith high-performance universal joint shafts in rolling mills on every continent of the earth. The universal joint shafts transmit torques up to 20,000 kNm, are precisely matched to the requirements of the drive and hit the optimal ratio between power, reliability and cost. In many cases, the universal joint shafts replace slipper or gear type spindles. In this way, they substantially reduce the consumption of lubricant and increase the overall efficiency of the drive.

Voith control and drive systems contribute to producing steel the way your customers want it. Using our products and solutions, you avoid unplanned downtime that causes high costs. The life cycle costs of your system can be planned and remain low.
Products for the steel industry:
Fluid couplings
Torque-limiting couplings
Universal joint shafts
Hirth couplings
Highly flexible couplings
Actuators and control systems for turbomachinery
Diaphragm couplings
Variable speed drives
Turbo gear units
Connection couplings
Roll covers and mechanical roll service for the steel industry
With roll covers made of various materials and an experienced mechanical roll service, Voith provides high-quality solutions for the steel industry. These value added solutions enhance your production and contribute to your market needs.