Power is the foundation of modern life

Electric power keeps industrial societies going. It is only when electricity is continually available in the requisite quantity that goods can be produced and transported, and basic human needs met.


Renewable energy on the rise
At the start of the 21st Century, the generation of electricity from renewable sources is on the rise. Hydropower is currently the only renewable energy source that can deliver power on an industrial scale at competitive prices. About a sixth of all of the power produced worldwide is generated using hydropower.                                 
A partner to industry for generations
Voith provides a full-line service in the field of hydropower. The company has been building power plants for many generations. Its range includes large hydropower plants, pumped storage power plants, small hydropower plants, automation systems and innovative technology for utilizing the energy of the oceans, the modernization of power plants, as well as full life cycle service.
Voith produces at its own locations in Asia, Europe and North and South America.
At four research and development centers worldwide, company engineers are working today to create the electricity generation of tomorrow. They can rely on experience accumulated over decades.
90 percent efficiency
Modern hydropower plants can have an efficiency of more than 90 percent and are thus by far the most efficient way of generating electricity.
"Hydropower has become an essential component of any energy mix."
International Energy Agency 2010
One-sixth
of the world's electricity is produced by hydropower. Among the renewable energy sources, it represents around 80 percent.

Over 100 years in hydropower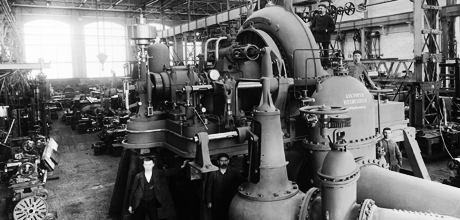 The first turbine was produced by Voith in 1870. In the following years, the company took control in quick succession of first the German and then the international hydropower market. Soon after, Voith became a key partner in the major projects of the time. At the start of the last century, a spectacular order from Canada was received in Heidenheim. Voith was awarded the contract to supply the turbines to the Ontario Power Company at Niagara Falls. Between 1903 and 1913, the company delivered a total of 12 Francis spiral turbines to Canada. The twin turbines, each capable of over 12 000 HP, were among the largest and most powerful of the time.
Another order that stands out from this time of the company's early years was Voith's first delivery to China. In 1910, the company installed a turbine at the Shi Long Ba hydropower plant in Yunnan province. This was China's first hydroelectric power plant.
"Tremendous potential for hydroelectric power in South America, Africa and Asia is not being used."
Richard Taylor, International Hydropower Association